Easy and Quick way to Create a Branding Board for your Business & Blog
---
The entire world is literally at home browsing the web. It's the perfect time to showcase your online business and blog with a cohesive and unique visual identity.
Are you ready to attract more clients and become recognizable online? You need to get your looks on the online world, on the right track!
Branding can definitely be an intimidating process. Where do I start? What do I need? How do I blend it all together? Does this look good?
Your feel overwhelmed, I know. So here is my recommendation:
Dream Big, Start Small.
You can start by creating a Brand Board.
What is a Brandboard?
A tool that helps you visualize all of the brand elements on one page.
It't like a cheatsheet of all your brand elements.
You can use it as a reference guide of your brand style.
It's a visual summary of the look and feel of your brand.
Why do you need it?
SAVES TIME: because you know exactly what elements, colors or fonts to use.
BRAND AWARNESS: all of your graphics (social media, website etc.) will be cohesive.
DIFFERENTIATION: from other businesses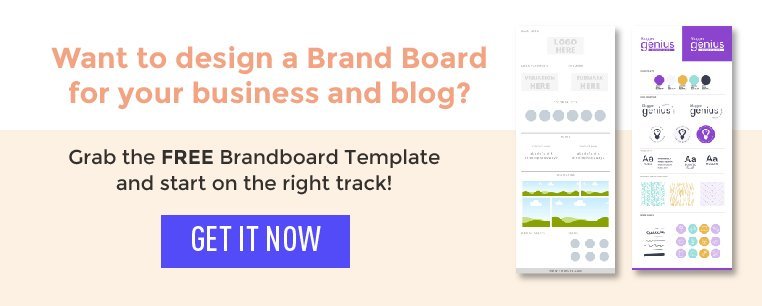 Here are 5 elements to Easily Create your own Brand Board.
1. Main Logo
Probably the brand element that you'll use most of the time. The rest of the elements are created based on the main logo, so it's the most important part of brand design.
2. Alternative Logos
It's usefull to have a couple of variations of the main logo, so you can choose which one works best for different uses. For example: a shorter version, one without the tagline, a different layout, and icon or a badge. (I suggest having between 2-4 alternative logos).
3. Color Palette
This is the set of colurs that respresent the brand/business. I suggest choosing 5-7 colors. You can play around with inspirational images and extract colors from there. I recommend choosing 1-2 main colors, 1 accent color to complement, and a couple of neutral colors to complete.
4. Fonts
Using a font combination is great to differentiate pieces of information and look professional. I suggest choosing one main font and one accent font.
5. Design Assets
These are the elements that complete the look and feel of your branding. You can choose patterns, backgrounds, a set of icons, buttons, illustrations, dividers or anything you think is useful to convey your brand personality.
Do you need a brand board for your business and blog?
Let me help you get started without starting from scratch.
I created a bradboard template which you can fully customize and start crafting your brand straight away!  It's fully editable using Canva, a free online graphic design tool. Get a 30 day trial of Canva Pro here!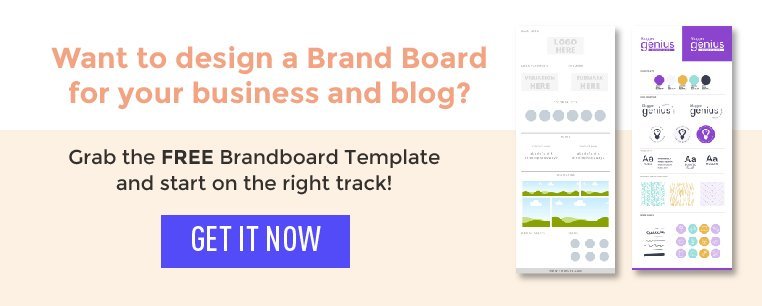 Want more templates that'll help save you time & money?
Head to our TEMPLATES section and discover our done-for-you templates, created by a professional designer, that don't require any design knowledge.
Need any help? Let's work together to grow your brand!